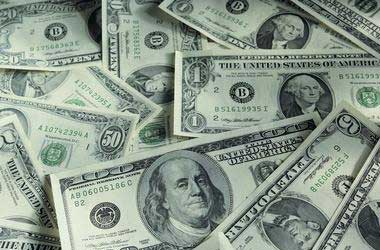 The dollar index declined 0.2% to reach 91.8% Friday, the lowest level since April 29th, paving way for further drop as a weak job market increased expectation of additional monetary easing or government stimulus.
Unemployment claims were greater than anticipated against a backdrop of deteriorating covid-19 pandemic and fresh lockdowns across the US.
Simultaneously, dollar's fading safe-haven status in view of advancements towards a Covid-19 vaccine and minimized ambiguity in the US politics paves way for additional drop in momentum.
On w-o-w basis, the dollar fell 0.6%, reflecting the second successive weekly drop and driving the annual loss to about 5%.
The US recorded 13,083,507 Covid-19 cases since the pandemic started, as per the World Health Organization (WHO). Additionally, the US reported 263,454 Covid-19 deaths.
In the US new home sales decreased 0.3% m-o-m to an annual rate of 999,000 in October, compared with forecasts of 970,000.
Sales declined from a upwardly amended 1,002,000 in September, the highest reading since November 2006. In spite of that, the level of home sales stood higher as the housing market has been backed by record low interest rates and rising demand from people shifting from big cities due to Covid-19 crisis. The median sales price rose to $330,600 from $322,400 in the year ago period.
The University of Michigan's consumer sentiment was downwardly amended to 76.90 in November, from an initial estimates of 77, and below 81.80 in October. It is the lowest recorded figure since August.
There was a considerably drop in the anticipations component (70.50 in November versus 71.30 as per initial estimates), which was partly nullified by additionally supportive outlook of current economic scenario (87 compared with 85.80).
In the meanwhile, inflation anticipations remained unaltered for the forthcoming year at 2.8% and the upcoming five years at 2.6%. The resurgence in Covid-19 infections has made November data as less positive than earlier month. For the foremost time since Trump took reins, Democrats, instead of Republicans started having a more positive economic view.
However, not all the news is negative. Personal spending rose 0.5% m-o-m in October, following a downwardly amended 1.2% expansion in September and slightly surpassing market expectations for a 0.4% growth.
Real PCE increased 0.5%, strengthened by a rise in spending for products and services. Consumption of goods increased 0.2% in October, compared with 1.5% rise in September, driven by recreational vehicles and goods. Furthermore, services spending rose 0.6% in October, following a 0.8% increase in September, led by health care spending.