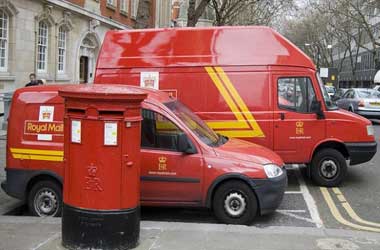 Those Binary Options traders who have their ears to the ground have been picking up speculation very recently that Moya Greene who is tasked with being the Chief Executive of the UK's Royal Mail is about to attempt an acquisition for this newly floated company.
Whilst the rumours have yet to be denied or conformed, this speculation did see shares in Royal Mail jumping by 5.1p this week up to 448.9p per share, and the company it is looking increasingly likely that Royal Mail will be bidding for is the Dutch postal and delivery service PostNL.
There is some additional interest in that Dutch company as it is believed that Germany's Deutsche Post are also interested in putting in a bid, and this has helped the share prices of PostNL this last week as their shares have increased by 5% percent.
If this deal does go through it will not be the first company that the newly floated Royal Mail has bought out, for they did recently buy on and acquire a company called eCourier recently along with a company call NetDispatch.
However, this is will be major acquisition if it does go through, and as a Binary Options trader you should be placing some very well thought-out trades in regards to the share values on the two companies involved.
For the shares in PostNL will surely increase as speculation and a final announcement is made and the shares in Royal Mail are also going to be fluctuating when the deal does or does not finally go through.
In fact, with Deutsche Post showing an interest in PostNL you will see that companies shares values bouncing all over the place as speculation as to whether they will be the winning bidder or not a grows.
Juts keep in mind that deals such as these do happen quite regularly in the world of business and as such even if you do miss out on making a profit on this proposed deal there will always be lots of other potential acquisitions that you may be interested in place trades on, in regards to the companies involved.
Just make sure that you have access to as much business news and up to date information as is possible as it is usually on business related news channels and business and finance newspapers that any proposes or speculated about deals are going to be mentioned and discussed.