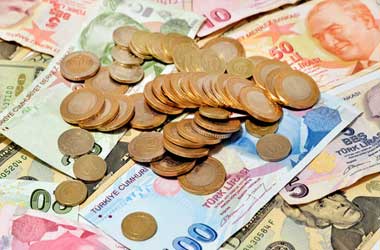 Turkish lira strengthened nearly 1% against the greenback to trade at 7.64166 after the Central Bank of Turkey (CBRT) upwardly revised its benchmark rates (one-week repo) by 475 basis points to 15% during the November policy meeting.
Even the country's premier stock exchange Borsa Istanbul 100 Index wiped out losses to trade up 0.4%.
The central bank further stated that it will maintain tight monetary policy until inflationary pressure drops permanently. Policymakers also announced central funding measures via the one-week repo rate, the principal policy instrument.
On an optimistic note, the CBRT has pointed out that the rebound in Turkey's economic activity is continuing, in spite of incertitude in the near-term view due to limitations enforced to contain the rising number of Covid-19 infections.
Policymakers raised the borrowing costs from 10.25% to 15%, CBRT said. The Central bank's decision was in line with forecast of economists surveyed by Bloomberg, Reuters and Turkish government backed Anadolu news agency.
Credits to bank will be done on the basis of benchmark interest rate, terminating the process of setting policy through what is referred to as interest rate corridor.
Turkish investors have been hoping for a considerable upward revision of Turkish interest rates after President Recep Tayyip Erdoğan, an outspoken critic of high borrowing rates, replaced the central bank governor.
Erdogan further stated that the central bank will be supportive of measures taken by the new central bank chief in curbing inflation, which hit 11.9% in October. The Turkish lira took a U-turn from a historical low of 8.58 per dollar after Erdoğan employed Naci Ağbal, a renowned intelligentsia and ex-finance minister, as governor of CBRT. The lira's rally, which began on November 6 has been continuing until now.
Before the monetary policy meeting began, the currency had gained 12% to reach the highest level since the final week of September. The lira's rally was also fueled by the resignation of Berat Albayrak, son-in-law of Erdoğan, as treasury and finance minister on November 8. He was replaced by Lütfi Elvan, who was the former deputy prime minister.
But Erdogan stated Wednesday that high borrowing costs discouraged investment and affected employment, creating doubts about the level of upward revision of interest rates.
The central bank issued the following statement regarding the lira:
"The lagged effects of depreciation in Turkish lira, increasing international food prices and deterioration in inflation expectations affect the inflation outlook adversely."
In accordance, the Committee has chosen to adopt a transparent and robust monetary tightening. Tim Ash, senior emerging markets strategist at BlueBay Asset Management in London, praised the decision:
"Excellent decision from Ağbal – at last Turkey has a proper central banker."
The latest policy decision was in conformity of Erdogan's guarantee to shift towards proven policies following the unexpected churning of his financial advisory team earlier in November.