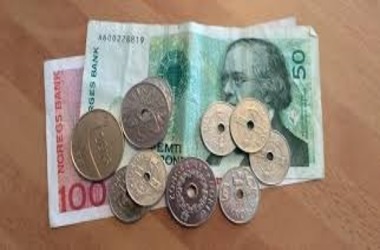 Norway's krone declined to a new monthly low of 10.64 against the greenback, after crude oil plummeted to negative prices for the first time ever.
For the first time in twelve years, the country's economy is anticipated to contract in 2020. The gloomy outlook is based on the Covid-19 outbreak and lower oil prices.
The central bank stated March 19 that it was looking at the option of interfering in the Forex market to stop the krone from appreciating further.
After hitting a low of -$40.32 per barrel in the earlier session, at the time of writing this article, May future contract for WTI crude regained a bit of lost ground but remained in negative territory.
The June contract was changing hands at $15 per barrel. Price of crude oil dropped below zero as the Covid-19 pandemic has drained worldwide demand and sellers expressed interest to ship crude anywhere due to lack of storage facility.
The country's trade surplus stumbled to NOK 2.5 billion in March 2020, from NOK 18.50 billion in the comparable period last year.
Notably, it was the lowest trade surplus since September 2019, when trade surplus hit NOK 1.5 billion, as imports increased and exports declined.
Exports plunged 17% due to 32.7% decline in sales of mineral fuels, lubricants & associated materials, and 6.6% drop in transport equipment and machinery.
In the meantime, imports increased 2.2%, as buying of manufactured goods rose 35.6%, chemicals and related goods increased 15.1% and miscellaneous manufactured goods grew 2.2%.
Notably, producer prices in Norway also fell 12.6% y-o-y in March, after recording a 7.4% decline in the earlier month.
It was the sharpest decline in producer prices since October 2019 as prices fell at a quicker rate for extraction and related services (-31.9% compared with -19.7%), energy goods (-31.1% against -18.8%), and electricity, gas and steam (-28.9% versus -27.8%).
Furthermore, cost of manufactured goods increased at a slower rate (2.2% compared with 3.9%). On a monthly basis, producer prices declined 7.5% in March, following a 3.3% decline in February.
Similarly, the country's annual inflation rate declined to 0.7% in March 2020, mirroring the lowest level since September 2012 and a notch below economists' anticipations of 0.8%.
Price increased at a slower rate for transport (1.4% compared to 1.9%) and recreation & culture (2.2% versus 2.5%). However, housing and utilities deflation fell sharply (-3.4% against -3%).
In the meanwhile, inflation hastened for non-alcoholic beverages and food (2.7% versus 2%) and household equipment, furnishings & routine maintenance (3.4% compared with 3.2%).
The core inflation rate, which is amended for changes in taxation and does not include energy products, was 2.1% in March, meeting economists' estimates.
On a monthly basis, consumer prices remained unchanged and the core index rose 0.3%.
Raw sugar prices fell to 9.77 cents per pound, the lowest level since the beginning of June 2008, as poor energy prices encouraged sugar mills in Brazil to increase sugar output and decreased output of ethanol, a biofuel manufactured from cane.
For the first time, WTI crude futures declined to negative zone due to worries that the US crude storage limit will be reached, pushing equities across the globe lower.