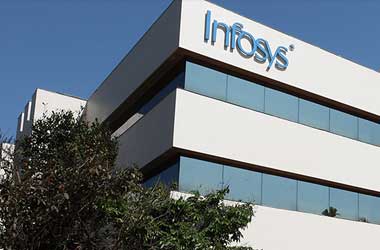 On the last day of June, India's second largest software technology company Infosys Ltd (NYSE: INFY) reported its results for the first-quarter ended June. At a time when Gartner has cautioned a decline in software spending across the globe, Infy reported better than anticipated first-quarter earnings.
Additionally, the company has also raised its outlook for fiscal 2017-2018. On the basis of facts provided underneath, we anticipate a rally in the stock of Infosys, which closed at $15.55 yesterday.
The Bengaluru-India based company reported an increase in the first-quarter revenues to $2.651 billion, from $2.501 billion reported in the same period last year.
The net profit for the quarter ended June 2017 was $541 million, compared with $511 million (Rs.3,483 crores) in the year-ago period. The earnings estimates of Thomson Reuters analysts were Rs. 3,439 crores. On a per share basis, earnings increased to $0.24 in the recent quarter, from $0.22 per share in Q1 2016-2017. The operating margin for the first quarter was 24.1%.
Infosys
North American revenue, which accounts for about 60% of the overall company's revenue, grew 1.3% sequentially. In the first-quarter, the employee count of the company declined by 1,800 to 1,98,553. However, Infosys anticipates the employee count to increase by 13,000 in FY18. Looking ahead, in the financial year 2017-18, the company continues to expect a revenue growth of 6.5% to 8.5% in constant currency terms.
Infosys also raised its dollar growth guidance by 1% to 7.1%-9.1%, from 6.1%-8.1% issued in April. However, revenue in local currency is expected to grow at a lower rate of 3% to 5%. Infosys also maintained its operating margin outlook range of 23% to 25%. Notably, Infosys reported growth of 8.3% and 15.3% in FY17 and FY16, respectively.
Cash and cash equivalents at the end of first-quarter was $6.091 billion, compared with $5.979 billion at the end of the previous quarter. Morgan Stanley stated that the company's operating margin has surpassed estimates and appreciated the performance of the company in the first-quarter. Thus, revenue growth coupled with a raise in FY18 estimates is expected to keep the stock of Infosys in a bullish orbit.
The stock is in an uptrend as shown in the image below. Additionally, the stochastic oscillator is rising. Furthermore, a strong support exists at 15. Thus, we can expect the uptrend to continue in the days ahead.
To gain from the forecasted upswing of the stock, we may purchase a call option valid until July 27th . A strike price of about $15.50 is preferred for the trade.