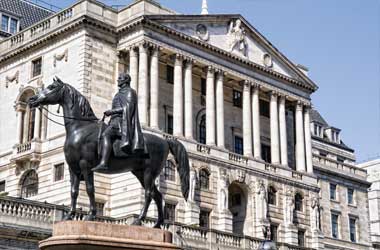 Citing the week's stronger-than-anticipated UK employment data, Goldman Sachs has pushed back the date when the Bank of England is likely to increase benchmark rates by over a year. "Latest stats on the UK labor market have been better than anticipated, and indications point to a cleaner furlough reversal than we originally believed," says Steffan Ball, Goldman Sachs' Chief UK Economist.
The Office for National Statistics (ONS) in the United Kingdom announced on Tuesday that employment had returned to pre-crisis levels, while pay growth had risen by 8.3% in July. "Our research indicates that core wage increases is robust and pricing pressures are strengthening more than expected," Ball adds.
On September 9, Bank of England Governor Andrew Bailey stated that the economic recovery had reached the bare minimum required to warrant increasing interest rates. He also disclosed that three other members of the Monetary Policy Committee's eight-person membership concurred.
"MPC member comments, coupled with the new Chief Economist position, indicates that a majority of the committee now believes that the minimal criteria for beginning monetary policy tightening have been fulfilled," Ball writes.
As a consequence, Goldman Sachs has revised its baseline estimate for Bank Rate hikes to May 2021. The prior baseline estimate by Goldman Sachs was for the foremost Bank Rate hike in 3Q23. They anticipate a 15bp rise to be succeeded by 25bp increments once in every two quarters, placing the Bank Rate at 0.5% in 4Q22, 0.75% in 2Q23, and 1.0% in the 4Q23.
"Given this trajectory, we anticipate that balance-sheet unwinding will begin with the cessation of reinvestments in 2022Q4. We anticipate that actively managed sales will commence in 2024, at which time the BoE will halt the hiking cycle to examine the effect of these sales" explains Ball.
Nevertheless, there are significant dangers to the hawkish change in attitude, including an unanticipated substantial economic downturn after the government's furlough program expires. Similarly, "if the furlough plan is smoothly unwinded and core wage pressures strengthen in the forthcoming months, the BoE may start lifting rates sooner than May," adds Ball.
They currently expect headline CPI inflation to peak at 4.5% in the 1Q22, far above the Bank of England's forecast of 4.0%. It is expected to decrease significantly to 2.2% by the end of next year, putting it over the Bank of England's 2.0% goal for the year.