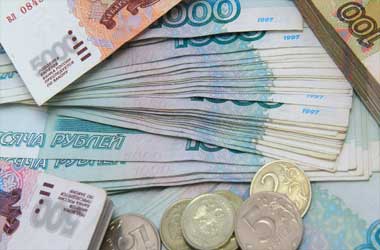 Since the beginning of this month, the Russian ruble has been strengthening, with the USD/RUB hitting 73.76 Friday, the highest level since 13th March. Last Thursday, Russia and Saudi Arabia entered into a deal to slash oil production by 10 million barrels a day, beginning May1st and through June end.
The production cut represents roughly 10% of pre-coronavirus demand across the globe.
Nevertheless, the benchmark Brent crude ended the last trading week at $32 per barrel as markets had already priced in the production cuts before discussions began Thursday.
But for the release of weak economic data, the ruble could have fared better.
The country's current account surplus fell to $21.70 billion in 1Q20, from $33.60 billion in the comparable period of 2019, according to a preliminary forecast.
The goods surplus decreased to $32.10 billion, from $47 billion in the year-ago period. Likewise, the services gap inched down to $5.50 billion from $6 billion.
In the meanwhile, the investment income gap fell to $2.30 billion, from $4.10 billion. Also, the secondary income shortage decreased to $1.70 billion, from $2.70 billion.
Russia's trade surplus also narrowed significantly to $9.66 billion in February, from $16.50 billion in the similar period last year. The reported figures just missed economists' anticipation for a $9.70 billion surplus.
Exports plunged 19.10% to $28.12 billion, the highest level since June 2016, as sales to CIS nations declined 13.3% and non-CIS nations slumped 19.90%. During the same period, imports rose 1.1% to $18.46 billion, as buying from non-CIS countries increased 1.6%, while purchases from CIS countries fell 2.4%.
The MOEX (Moscow exchange), the largest exchange group in Russia, dropped 24 points or 0.9% to 2,678 Friday, a decrease from 1.2% increase in the earlier session, after an agreement between Russia and Saudi Arabia to slash crude production by 10 million barrels a day was not adequate enough to soothe markets worries over a decline in worldwide demand amid the coronavirus epidemic.
Furthermore, President Vladimir Putin prolonged the countrywide lockdown until the end of this month, after Russia recorded 1,786 new coronavirus disease cases, bringing total count to 11,917. Nevertheless, the MOEX gained 4.1% last week, led by an increase in oil prices.