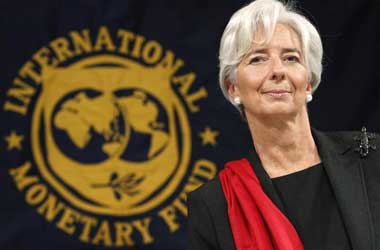 Christine Lagarde who heads the International Monetary Fund (IMF) is expected to vacate her post as she has recently been voted in as the European Central Bank's (ECB) president-elect.
She is getting into the swing of things even before her approval though.
Lagarde is already calling on European governments to take steps to stimulate the EU economy.
She hopes that they can work together to beat back a potential slowdown.
Ms. Lagarde will be succeeding Mario Draghi as the head of the ECB this autumn. However, she has recently made her first appearance in her capacity as ECB president-elect as she wants to take a proactive approach in an effort to stabilize the economic situation in the EU. She stressed that it was not just the responsibility of central banks to push for a stable economy but other financial institutions also have a role to play and Lagarde is pushing for all of the to work together towards one common goal.

Bloomberg Markets and Finance
There are reports that the ECB is planning to carry out some monetary loosening in the coming week. These measures include cutting interest rates down into negatives while restarting the bank's €2.6 trillion bond-buying program.

Some of the other top central banks around the world have been taking similar approaches as the global economy is currently taking a beating. Economists are warning that current monetary policy is not as effective anymore as interest rates drop like a rock. This means that governments are facing the prospect of launching fiscal stimulus to keep their economies alive.

Officials in the European Commission have started suggesting rewriting the EU's stability and growth pact so that its fiscal rules can be more easily enforced.
Lagarde Moving Towards Fiscal Reform

Mr. Draghi has been pushing for fiscal reform to help boost the European economy for quite some time now. Lagarde agrees with these ideas and hopes to continue his policies when she officially takes the post on November 1.

Lagarde wants countries to use an accommodating monetary policy to help shepherd economies through the coming challenges. She also suggests that countries with no ability to spend on their economy need to implement reforms in their fiscal structure to boost their financial strength.

Lagarde will focus on will be to handle climate change in an economic way. The ECB will soon have a policy of corporate asset purchases aimed at green bonds. Additionally, the ECB will be reviewing its monetary policy, focusing on making its inflation target of less than two percent more specific.