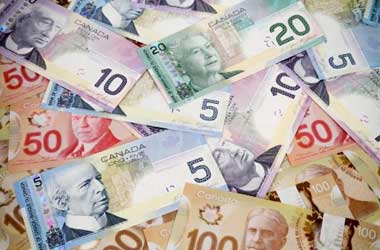 The Canadian economy fared better than all other countries in the G-7 group during the 2008 economic crisis. The economy also came out of recession, faster and stronger.
The trend continued until 2013. Soon after the price of crude oil started declining, the economy went to shambles.
Over the past two months, the price of crude oil has recovered more than 40% to trade at about $40 per barrel. Reflecting the uptrend in the price of crude oil, the USDCAD pair declined.
The reason is that crude oil contributes to the majority of the Canada's export revenue. However, lack of demand and oil glut has halted crude from rising above $40 per barrel. With a marginal recovery (considering that it has fallen from a high of $147 per barrel) in the price of crude, the Canadian companies and the economy are struggling to recover.
The low price of crude oil has forced nearly 75% of Canadian business establishments to cut jobs. Likewise, more than 50% of the enterprises have cut capital expenditures.
Even manufacturing industries, which normally benefits from low oil price was not spared. Four out of ten manufacturing industries did not experience anything positive from the decline in the price of crude oil.
The Canadian Imperial Bank of Commerce expects the economy to grow by a paltry 1.1% this year. The previous estimate was a growth of 1.7%. If the economy grows as expected, then barring Italy and Japan, it would be the lowest recorded growth among the G-7 nations. The analysts' expect the US economy to grow at 2.2%, Britain at 2%, Germany at 1.8% and France at 1.3%. The jobless rate in the country is 7.2% and is not expected to become better anytime soon. According to the National Bank of Canada, the country could sink into a $90 billion deficit in the next four years, if the economy does not recover.
Most economists believe that a recovery in the US economy can only boost exports from Canada. Until then, the Canadian dollar is expected to remain weak against the US dollar.
Technically, the USDCAD pair has formed a bullish swan harmonic pattern on the charts. Furthermore, the main line of the MACD indicator has crossed the signal line and is rising towards the zero level. Major support exists at 1.2850, while major resistance exists at 1.3320. Thus, a trader can expect the currency pair to ascend in the weeks to come.
A Canadian forex trader should take a long position with a stop loss below the 1.2850 level. Profit can be booked near 1.3300 levels. A binary options trader can purchase a one touch call option contract with expiry date in the last few days of April. The target level for the one touch call option contract should be preferably around 1.3250.