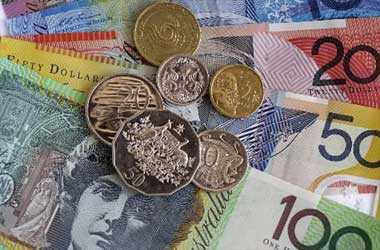 The Aussie rallied against the greenback following the report of better than anticipated trade surplus for October. The overwhelmingly positive September quarter GDP data also fueled the AUD/USD rally, which moved from a low of 0.7395 to a high of 0.7430.
According to the Australian Bureau of Statistics, the country's trade surplus increased to A$7.456 billion in October, from A$5.82 billion in the previous month. Economists had anticipated a trade surplus of A$5.83 billion. Specifically, exports of goods and services increased 5% (or A$1.819 billion) to $35.720 billion.
Imports of goods and services increased 1% (or A$178 million) to $28.264 billion.
The country has emerged from recession by posting a 44-year high quarterly economic growth, which is expected to carry on in the final leg of this year and into 2021 as lifting of restrictions in Victoria and government stimulus has boosted consumer spending and overall business spending.
The economy recovered from technical recession after posting a 3.3% surge in September quarter GDP, regaining 50% of the 7% contraction in the June quarter. Treasurer Josh Frydenberg responded to the figures as follows:
"Technically the recession is over, but the recovery is not. The Australian economy has demonstrated its remarkable resilience."
The September quarter reversal was considerably higher than market economists' anticipations of 2.5% increase, while the yearly contraction is currently a less critical 3.8%, also better than Consensus estimates of 4.4% annual decline.
The December quarter is anticipated to be robust with a minimum of 2% growth as huge initiatives such as an additional $7 billion in tax cuts, $850 million in JobMaker credits and the $1.50 billion business investment incentives begin to flow through the economy in this financial year.
Philip Lowe, Reserve Bank of Australia's governor, stated that the economy had "turned the corner", and signaled the likelihood of an "upside surprise" to job gains stating the central bank now anticipated the unemployment rate to zenith "in the sevens", or "between 7 and 8 per cent".
The rebound in quarterly growth was also above the outlook issued by the RBA's latest Monetary Policy Statement and mainly led by consumption.
Household consumption increased 7.9%, far greater than economists were anticipating, after declining 12.1% in the June quarter.
The surge in consumption, which accounts for roughly 60% of GDP, was led by a 9.8% rise in services spending consisting of a 49.7% increase in hotels, cafes and restaurants in the third-quarter as Covid-19 limitations were removed.
However, Jim Chalmers, shadow treasurer, opined that the issue is not over:
"This quarterly GDP number will be cold comfort for a million Australians unemployed; cold comfort for the 2.4 million Australians who are either looking for work or looking for more hours at work."
NAB chief economist Alan Oster stated that December would record over 2% growth led by Victoria and budget initiatives.
Oster said "We expect another strong rise of around 2 per cent in the December quarter and solid growth over 2021."