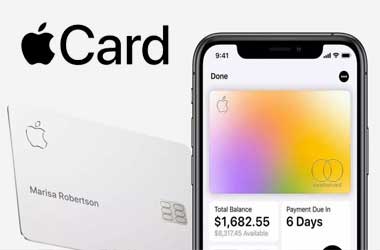 Earlier this year, Apple Inc. decided to branch out into finance and launch its Apple Card. Apple has a very committed set of customers throughout the world who are ever ready to try out anything new that Apple releases. The new Apple Card was released in August and is essentially a credit card with the Apple brand.

Though there are so many different credit cards out there in the market, what this card brought to the table was Apple's tech-savvy features. Users could track purchases online using the Apple Wallet and there was even commentary available on a person's spending habits.
The card, of course, was meant for Apple purchases and even features special cash backs for them. However, the new Apple Card has received flak for a number of uses. 

Wochit Business
Different Credit Limits
In a recent tweet, David Heinemeier Hansson, a well-known tech developer, said that it was unfair that he had a credit limit 20 times higher than his wife. With both of them in the same household and her having a better credit score, this should be reversed. Hansson quickly labeled the algorithm behind the credit card as sexist as it seems to discriminate against women when it comes to offering credit.
The @AppleCard is such a fucking sexist program. My wife and I filed joint tax returns, live in a community-property state, and have been married for a long time. Yet Apple's black box algorithm thinks I deserve 20x the credit limit she does. No appeals work.

— DHH (@dhh) 7 November 2019
This complaint was soon echoed by Steve Wozniak, one of Apple's founders. According to him, he had ten times the credit limit of his wife. Other tweets followed up that exposed the fact that it appeared that the Apple Card was sexist when it came to giving out credit limits.
The same thing happened to us. I got 10x the credit limit. We have no separate bank or credit card accounts or any separate assets. Hard to get to a human for a correction though. It's big tech in 2019.

— Steve Wozniak (@stevewoz) 10 November 2019
As a result, New York's Department of Financial Services will soon start an investigation into what is happening behind the scenes. The case comes under its purview because the financial backer behind the Apple Card is Goldman Sachs, which based out of New York. The investigation will look into whether laws were violated since it is a legal requirement that all consumers should be treated equally regardless of sex.
Response From Goldman Sachs
In a statement, Andrew Williams, a spokesman for Goldman Sachs spokesman, said
Our credit decisions are based on a customer's creditworthiness and not on factors like gender, race, age, sexual orientation or any other basis prohibited by law.
The investment bank has been branching out and trying out new financial products in recent years. The Apple Card is the bank's first credit card and could be its flagship product in the credit card market. The bank is now also offering services like saving and lending out personal loans via its online subsidiary, Marcus by Goldman Sachs.